About
In 2006, Ray Aplin and Ed Stevenson, opened R.A.E.S. Auto Sales bringing over 60 years of combined professional experience to R.A.E.S. Auto Sales.
Raised in the car business, Ray Aplin has over 30 years of experience in the automotive industry. In the 1970's Ray worked along side his father in their successful, family owned dealership. Following his family tradition and personal passion, Ray continued working in wholesale and retail sales for one of the largest dealerships in Simcoe County.
Melanie Aplin's business background offers over 20 years in the Corporate Business environment and now bringing her business experience to RAES Auto Sales.
Since January 2008, Ray Aplin, Owner and Operator of R.A.E.S. Auto Sales, continues to bring a wide selection of top quality, low kilometre reconditioned vehicles, including high end warranty protection and flexible financing.
Ray stands behind what he sells, his personal motto is "the customer always comes first"!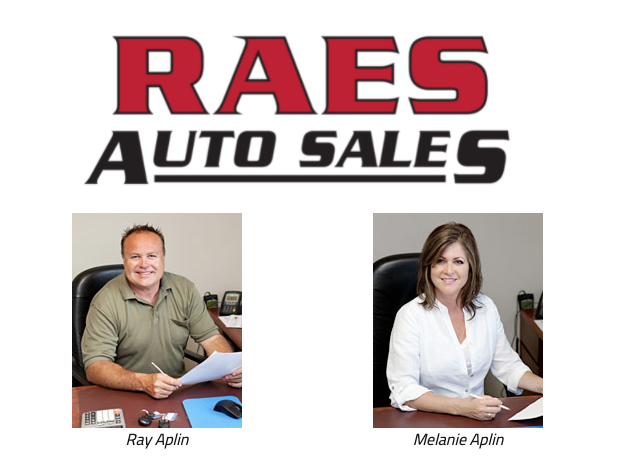 ★ ★ ★ ★ ★

Just bought my second car from RAES Auto Sales. It was a great experience overall. Ray understood how important of an investment this was to me and was very fair and honest. He even threw in a couple of extras to save me some expenses. I highly recommend working with Ray if you are looking to buy a good reliable used vehicle.
★ ★ ★ ★ ★

It was my first time buying a car and Ray made sure I had nothing short of a great, hassle free experience. He was very explanatory and I felt like he actually cared about not only making the sale, but also making sure I was happy as a buyer and driver. He handled my safety, got me a decent deal on winter tires, and gave me tips on how to make the most of my purchase....
★ ★ ★ ★ ★

I have had bad experiences with other used car places in Barrie, lies and fake safety certificates...So it was a dream to find Ray! I could not be more happy with the Subaru I bought last week for my son. Ray was a great fellow to buy from, honest and straight. He saftied the vehicle for us, and when a small leak was detected in the oilpan after it was saftied he replac...
★ ★ ★ ★ ★

My wife and I bought a Ford Escape from R.A.E.S. last February and absolutely love it. Ray is a great guy to deal with and we've been happy not just with the vehicle but also the customer service. The price was very fair and the extended warranty that we were able to get gives us some added assurance and piece of mind.
★ ★ ★ ★ ★

Dealing with Rae was a pleasure. He made my wish to get into another vehicle come true. His hard work and dedication to customer satisfaction is true. Im enjoying my Subaru forester!!!! I liked the fact he educated me on the features and capabilities this vehicle has. Thanks Rae
★ ★ ★ ★ ★

Outstanding! We got a great deal on a solid 2014 Mitsubishi Outlander. Couldn't imagine getting better service and support from another car dealer in the area. Ray is a really genuine nice guy who brightens any room he's in. He's knowledgeable, generous and friendly — and the beating heart of this family business. If you're in Barrie and the area or even in the GTA, and..
★ ★ ★ ★ ★

Recently had the opportunity to purchase a vehicle from Ray! It was an extremely positive and enjoyable experience! Ray was very informative and knowledgeable about the vehicles on his lot! Ray's prices were very reasonable, and there was no pressure to buy, at any time! I would definitely recommend my family and friends to go see Ray for their next vehicle
★ ★ ★ ★ ★

Just bought my 4th car from RAEs auto sales. Im an extremely satisfied repeat customer and I didn't even consider buying from anyone else. I was given a fair price and Rae went above and beyond to understand my needs to get me the perfect vehicle.